Hi there!
Phone Doctors has been serving Wapakoneta and surrounding areas since February of 2018.
Phone Doctors' founder, John Monahan, had been fixing and upgrading his own families phones for years. A love of working on phones combined with a desire to serve people and slowly the idea began to start fixing iPhones and iPads for people!
It started out as a branch of Webcore, but due to a high amount of interest it was quickly determined that this needed to be it's own thing. Hence this Phone Doctors website!
With no Apple service locations anywhere nearby, it seemed like a no-brainer to help people with phone problems. Dayton is the home of the closest Apple Store location and is well over an hour away.
But in addition to being extremely convenient for people in St. Marys, Lima or other nearby towns, Phone Doctors has another additional advantage, and it's our main purpose: to repair phone for significantly less than you'd pay at Apple.
Our goal: to repair people's phones for significantly less thaN you'd pay at Apple.
Here's the thing… if you didn't pay the hefty fee for AppleCare+ when you first bought your phone, screen repair prices can be quite expensive (and also include shipping fees).
Here are Apple's prices (as of 10/1/18):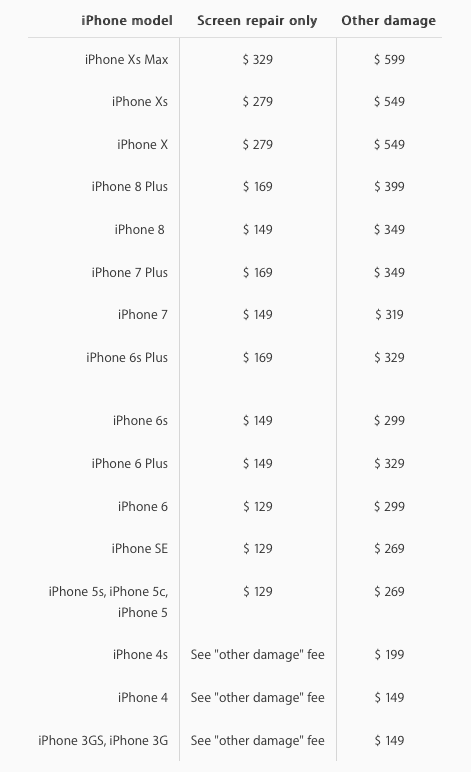 At Phone Doctors, we aim to be AT LEAST $50 cheaper than Apple on most screen repairs. (Currently there is only one product where we don't fall $50 less than Apple: that's on the iPhone 8 display where we're "only" $39 less. But we digress…)
But our low pricing on iPad & iPhone service doesn't take away from the quality of repair. Oh no, we've serviced dozens of iPhones and iPads and take extreme care with each repair we do.
Each repair is thoroughly research and prepped for before we even open the device. Could we take apart an iPhone blindfolded? Well, maybe not, but do you have any idea how small the screws in those are? (Hint: they're tiny. Also: we need to try doing it blindfolded!)
Warranty
We stand behind our service with 30-day warranty on the repair. Additionally, all of our parts come with a 60-day warranty. This doesn't cover accidental drop/crack damage, but you can rest assured that everything will work well after a repair with us!
$5 Tempered Glass
($10 for Samsung or iPads!)
For an additional $5, we can install crystal-clear, tempered glass screen on all iPhone screen repairs. This means a beautiful glass screen that sits on top of your iPhone screen and protects it from harm. ($10 for Samsung or iPads!)
If you happen drop your iPhone with one of these bad boys on it, most of the time the tempered glass will break before your screen does. And let us attest that your screen looks MUCH better with tempered glass than it does sitting behind a huge plastic-fronted case.
(Of course, we do highly recommend getting some sort of protective case for ANY iPhone or iPad. We're just saying that it can be open-faced and you can let the tempered glass screen protector absorb the brunt of the damage from a fall.)
We think that's enough of a spiel for now. If you have any questions whatsoever, contact us!
PHONE DOCTORS: IT'S LIKE GETTING A BRAND NEW PHONE!
Contact us and schedule a repair time.
Drop off your phone for one to two hours.
Repair Services
• Broken glass and LCDs
• Battery replacement
• Charging ports
• Headphone jacks
• Loose/Stuck Buttons
• Power buttons
• Camera replacement
• Antennas…
and more!
iPhone Repair Prices
• iPhone 5/5C/5S – $55
• iPhone SE – $55
• iPhone 6 – $60
• iPhone 6+ – $65
• iPhone 6s – $65
• iPhone 6s+ – $70
• iPhone 7 – $75
• iPhone 7+ – $80
• iPhone 8 – $85
• iPhone 8+ – $90
• iPhone X/XR – $125
• iPhone XS – $125/175
• iPhone XS Max – $175
• iPhone 11 – $150
Other iPhones – Contact us!
* Prices subject to change
TESTIMONIALS
What People Are Saying
Hours
Sunday: CLOSED
Monday: CLOSED
Tuesday: By Appointment Only
Wednesday: 11am - 6pm
Thursday: 11am - 6pm
Friday: 11am - 6pm
Sat: 11am - 3pm
CALL ANYTIME!
(* Additional hours available upon request! *)